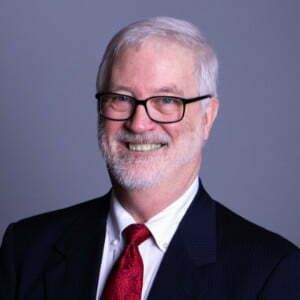 M. David Bland
Founding Partner Of Counsel
Dave Bland is a seasoned litigation attorney at Weaver, Bennett & Bland, P.A. who has tried countless jury trials throughout his career. Dave has the distinct honor of holding four record verdicts in The State of North Carolina, and his legal representation has been reported on widely by Court TV and other media outlets. Dave also successfully argued numerous landmark cases before the North Carolina Supreme Court and the North Carolina Court of Appeals.
Civil Litigation Attorney in Matthews, NC
In 1984, Dave joined the law firm of Weaver, Bennett & Bland, P.A. as a founding partner. Over the last 35 years, Dave has handled matters in almost every area of complex civil litigation. These cases include medical malpractice and personal injury, copyright and trademark infringement, unfair competition and price fixing, unfair & deceptive trade practices, consumer rights litigation, will challenge actions, and other similar types of litigation.
In addition to his passion for being a champion of his client's rights, Dave regularly promotes clean, alternative energy. He founded the Sustainable Energy Community Development Company (S.E.C.D.C.) in 2010. S.E.C.D.C. has provided leadership in promoting sustainable energy policy at both the state and national levels.
Dave's work with the S.E.C.D.C. is just one example of his love for giving back to his community. He also served four terms on the Board of Commissioners for the Town of Matthews, and he acted as a board member and officer for numerous Matthews area organizations.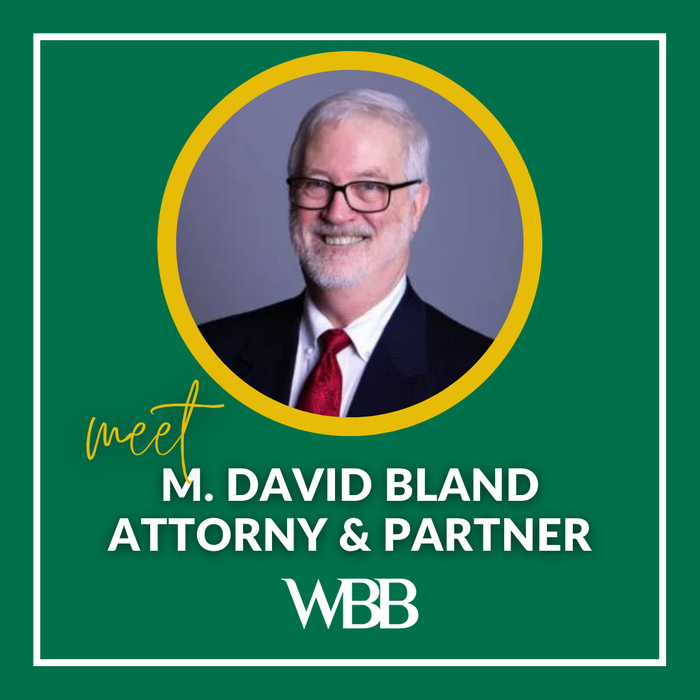 Who We Are — About Dave
Hometown: Winston-Salem, NC.

I'm a huge fan of: Wake Forest University.

Favorite food: Ice cream.

I value: Honesty and integrity.

I spend my free time: With family and friends.

As a child, I feared: Snakes.

Why I enjoy litigation and business transactions: I enjoy practicing civil litigation because I enjoy helping people and fighting for clients who have been harmed by others.
If you're looking for a top-notch attorney with expertise in civil litigation, you can't go wrong with M. David Bland at Weaver, Bennett & Bland, P.A. in Matthews, North Carolina. Contact David today for a consultation.
Bar Admissions
North Carolina State Bar South Carolina State Bar The State Courts of both North Carolina and South Carolina The United States District Courts in North Carolina and South Carolina The Fourth Circuit Court of Appeals The United States Supreme Court
Education
Wake Forest University, B.A. Wake Forest University School of Law, J.D.
Associations
North Carolina Advocates for Justice, Active Member/Patron Matthews Rotary Club 2014 -2015, Member Matthews Lions Club, 2007, Member Charlotte Soccer Club, 1992 – 2004, Board Member/Officer Town of Matthews, 1982 – 1990, Member, Board of Commissioners Charlotte Metropolitan Planning Organization, 1986 – 1988 – Town's Representative Matthews Help Center, 1982, Board Member/Officer
Representative Cases
Estate of Coppick v. Hobbs Marina et. al., 772 S.E. 2d 1 (2015) White v. Mills, 730 S.E. 2d 213 (2012) Seagraves v. Seagraves, 206 NC App 333, 698 SE2d 155 (2010) Waldon v. Burris, 616 S.E. 2d 693 (172 N.C. App. 594 2005) Nadeo v. Allstate, 139 N.C App. 311, 533 S.E. 2d 501 (2000) Raintree Homeowners Ass'n, Inc. v. Bleimann, 449 S.E. 2d 13 (116 N.C. App. 561 1995) Washburn v. Vandiver, 97 S.E. 2d 65 (93 N.C. App. 657 1989) In re A. C. Burgess, Jr. Real Estate, 286 S.E.2d 362 (N.C.App. 1982)